Connecticut

South slope of Mt. Frissell, Elev. 2380 ft
Completed 10/12/03 - #3
(start at #1)
---
After conquering Rhode Island's highpoint, we drove through the steady rain to Connecticut to find "the green stake." By the time we arrived, the clouds had cleared and the weather was perfect. The path to the highpoint was easy to follow (marked with red slashes on the trees) and the foliage was amazing. Athough the locals said the colors were muted, being from Texas we were in awe. The view of Bear Mountain was breathtaking...the picture doesn't do it justice.
The highpoint of Connecticut is actually on one of the slopes of Mt. Frissell, which peaks in Massachusetts. The trail straddles the state line for quite a way. Connecticut doesn't particulary advertise this fact, and many people assume that Bear Mountain is the highpoint (it is the highest peak totally within the state). Therefore finding the green stake that marks the highpoint is a little challenging. It helps to have a GPS (you can get coordinates from the guidebooks or the Highpointers Club).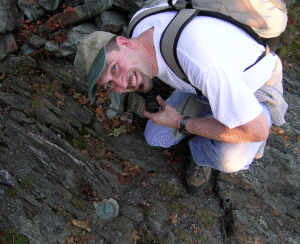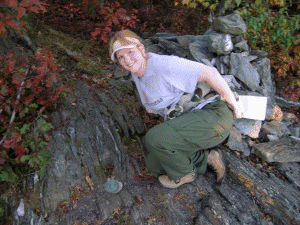 After we reached the highpoint and the summit of Mt. Frissell (in Massachusetts) to sign the register, we noted that we were losing sunlight fast. Our trip down was slightly frantic but we made it before total darkness engulfed the mountain.
Back to the previous highpoint
Back to Denny & Christy's highpoints page

---
Copyright(c) 2004 Clearskies Networks. All rights reserved.